Kurzprofil Cafe Cralle
For the Cloud, Parallels automation and virtualization software enables cloud services providers to rapidly and profitably deliver the widest range of cloud services that small businesses want and need. Our software includes key building blocks of cloud service delivery - self service control panels, billing, cloud service provisioning and virtualization. We enable the delivery of all types of services that small businesses need - shared web hosting and web applications, messaging and collaboration services, virtualized infrastructure services and thousands of other applications. Our Automation products allow businesses to optimize their systems to maximize profit. Our Virtualization products allow personal computers to run several operating systems on one computer (like OSX and Windows) and for individual servers to function like many servers at once for creating cloud computing environments.
weiterlesen
Bilder Website Cafe Cralle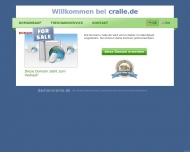 www.cralle.de
Öffnungszeiten Cafe Cralle
Heute: 19:00-02:00
Alle Anzeigen
Erfahrungsberichte zu Cafe Cralle
Lesen Sie welche Erfahrungen andere mit Cafe Cralle in Berlin gemacht haben.
Leider gibt es noch keine Bewertungen, schreiben Sie die erste Bewertung.
Jetzt bewerten
Hinweis zu Cafe Cralle
Sind Sie Firma Cafe Cralle? Hier können Sie Ihren
Branchen-Eintrag ändern.
Trotz sorgfältiger Recherche können wir die Aktualität und Richtigkeit der Angaben in unserem Branchenbuch Berlin nicht garantieren.
Sollte Ihnen auffallen, dass der Eintrag von Cafe Cralle für Restaurant aus
Berlin, Hochstädter Str.
nicht mehr aktuell ist, so würden wir uns über eine kurze freuen.
Sie sind ein Unternehmen der Branche Restaurant und bisher nicht in unserem Branchenbuch aufgeführt?
Neuer Branchen-Eintrag